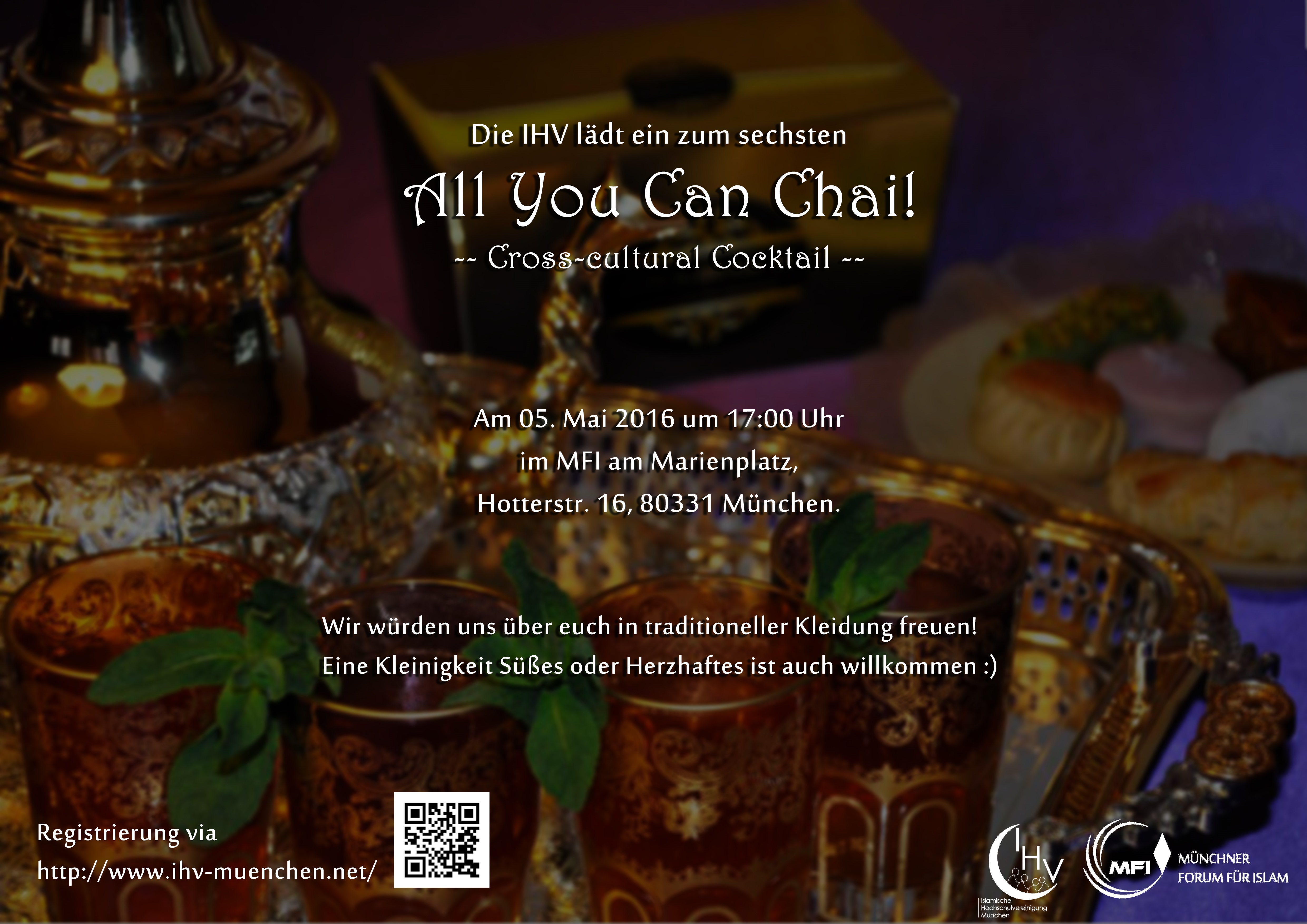 ==== English below ====
Aus Deutschland, Ägypten, Bosnien und Pakistan,
kommt alle und zieht eure traditionelle Kleidung an,
aus Jordanien, Bangladesh und der Türkei,
eilt mit Süßem und Herzhaften herbei,
auch aus Palästina, Afghanistan, Indien und Tunesien,
lasst uns gemeinsam mit anderen Muslimen Essen genießen.
Aber auch ihr restlichen Nationen bunt und farbig,
habt keine Angst, ihr seid nicht ausgeschlossen!
Ihr seid herzlich eingeladen zum sechsten All You Can Chai! Wir würden uns über euch in traditioneller Kleidung und über eine Kleinigkeit an süßem oder salzigem Essen freuen!
Registrierung via https://goo.gl/Uwki00
Facebook Event: https://www.facebook.com/events/576253162538613
=== English ===
We invite you to put your traditional clothes on,
all you people from Germany, Egypt, Bosnia and Jordan.
Let's come together with some sweets and tea,
oh, you people from Pakistan, Tunisia, Bangladesh and Turkey.
Let's meet other Muslims and dine,
you brothers and sisters from India, Afghanistan and Palestine.
Also a "salām" and welcome to all other nations,
all of Allah's colourful creations.
You are heartily invited to the sixth All You Can Chai! We would be pleased to see you in your traditional clothes as well as some small pleasantries of sweet or salty finger food!
Please register through: https://goo.gl/Uwki00
Facebook Event: https://www.facebook.com/events/576253162538613